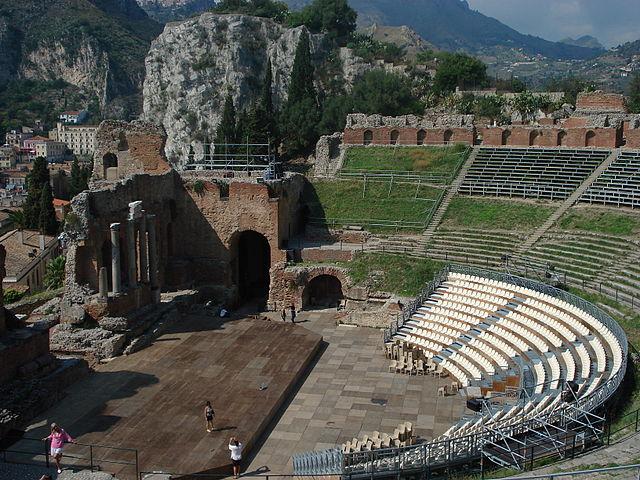 © Giovanni Dall'Orto / Wikimedia
[public domain with attribution ]
The ancient Teatro Greco-Romano near Taormina is the second largest theatre in Sicily after the ancient theatre in Syracuse and is a celebrated site in Sicily. It is a Roman construction from the second century B.C., and the addition of "Greco" in its name came about as the theatre was built on the site of a theatre built by the Greeks in the third century B.C. It took decades to build and no one really knows when exactly it was erected. Originally solely intended for theatrical performances, it was later modified to only be used for gladiatorial battles.
The 120 metre long, 50 metre wide and 20 metre high theatre is south-facing and embedded in a flank of a hill. It once provided seating for 5400 spectators, but most of the original stone rock seats are missing. The entire wall which surrounded the cavea and the back wall of the scene are well-preserved, which is quiet unique for ancient theatres. Today there is a small archaeological museum in the direct vicinity of the Teatro Greco-Romano.
The theatre is far from being an extinct relict of the past – today it provides a beautiful setting for regular operatic, show and theatrical performances. There are also lots of concerts held here, and if you are lucky, your favourite singer/band will perform while you are on holiday in Sicily. Former concerts include James Blunt, Elton John and Patti Smith. Check out the schedule by clicking on the link below.
The theatre is the most remarkable monument remaining in Taormina and definitely worth a visit if you are visiting the area. It is sited on a hill-top and you will from here have a fantastic view over the bay of Naxos and
Mount Etna
. So do not forget to bring your camera!
Address:
Via del Teatro Greco, 1
98039 Taormina Messina
Sicily, Italy
Visit the website of Teatro Greco-Romano