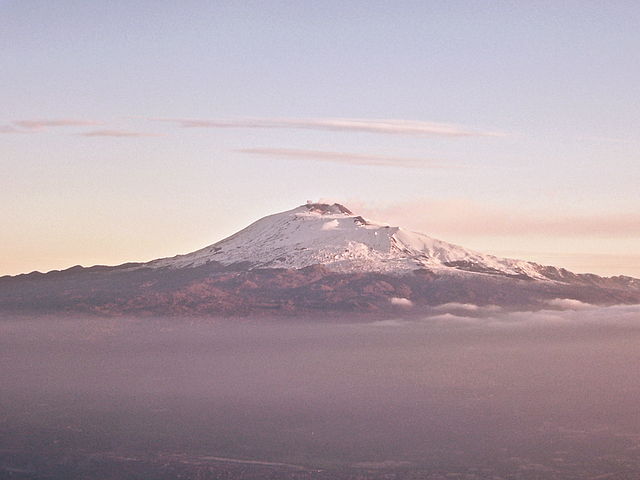 © Mariom990 / Wikimedia Commons
[CC BY-SA 3.0]
Etna is not only the highest and most active volcano in Europe, it is also Italy's southernmost skiing district.
Mount Etna
is 3323 meters high, covers a surface of 1250 km² and has a circumference of 250 km.
The maintenance of ski pistes on the slopes of an active volcano is a real challenge. In 2002 an eruption destroyed the ski school and the crucial cable car. Due to this outbreak the Etna ski resorts lost its status as the largest skiing district in southern Europe. The new cable car Funivia dell'Etna was opened two years later. Winter sports are possible from approx. 1800 metres to 2600 metres. The skiing season goes from December to March.
The two most famous ski resorts at Mount Etna are the settlements Rifugio Sapienza/Nicolosi and Linguaglossa. The snow quality is not affected by the southern location of the ski area and allows both skiing and snowboarding.
Rifugio Sapienza has 5 ski slopes covering 10 km, 1 cable car and 4 ski lifts, and is situated on the south side of the volcano. A daily pass, at the time of writing, costs €28,50 for adults.
Linguaglossa has 5 km of ski slope and 4 ski lifts. It is situated on the northern side of Etna and a day ticket costs, at the time of writing, €28,00.
Even though the size of the skiing area leaves much to wish for, it is still enjoyable to go skiing on Etna. No other place you will have such a spectacular view over Ionian Sea while you ski.
Access to the crater itself is prohibited due to the constant danger of eruptions.
Which other island gives visitors the opportunity to ski on an active volcano in the morning and take a sunbath on the beach in the afternoon? If you are intrigued to visit, your can here find a suitable
holiday home in Sicily
.