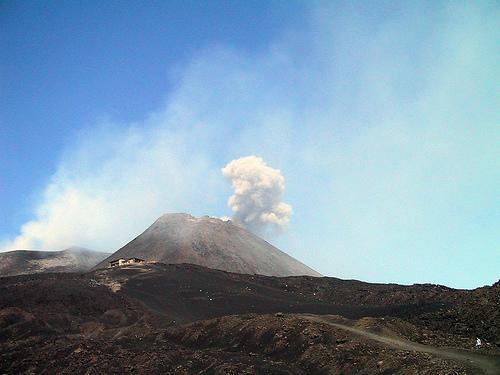 © Problemkind / Flickr
[CC BY 2.0]
Mount Etna, located near the cities of
Catania
and
Messina
, is Europe's most active and tallest volcano with a summit at 3,329 metres. It emerged about 600,000 years ago and has four summit craters that, however, only rarely erupt. Lava is mainly spewed out down the slopes of the volcano, which is why approximately 400 secondary craters have emerged there over the course of history. The volcano has not just caused successive waves of destruction in its long history, but is also the reason that the valleys and land in the region are so fertile and perfect for growing wine grapes and other fruit.
Reaching Mount Etna is relatively easy for tourists due to a street and a cable car; with the latter is possible to reach a height of approximately 2500 metres. An ascent of 3000 metres is possible on foot or by bus. A vulcanological observatory at about 2800 metres can be reached using a special bus service.
If you would like to know more and get a closer look at this amazing volcano, you can join a guided tour to the summit of the volcano. There are tours departing from La Sapienza on the southern side or Piano Provenzana on the northern side. We strongly advise you to join the guided tours instead of trying to mount the volcano yourself. The weather can change fast and you should definitely bring warmer clothes if you plan to reach the top.
The volcano is covered by black lava sand and volcanic rocks, making it a unique experience apart from the sandy beaches that Sicily is otherwise known for.
In winter, Mount Etna turns into a popular
skiing resort in Sicily
.
As of June 2013, the UNESCO listed Mount Etna as a World Heritage Site due to its scientific importance, and cultural and educational value. It is one of the world's most active volcanoes, and a great example of continuous geological processes and volcanic landforms.