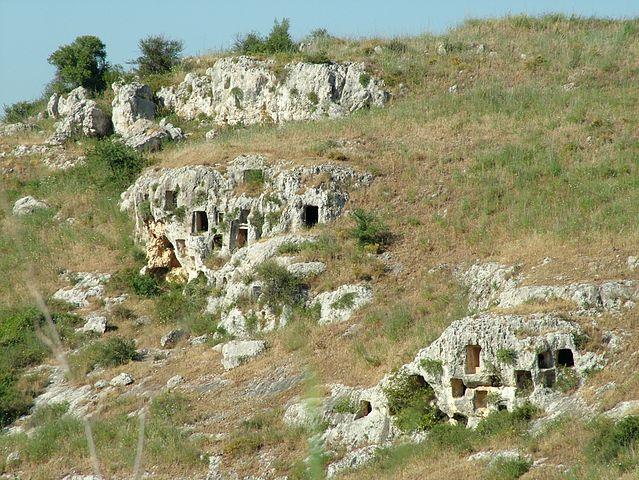 © Clemensfranz / Flickr
[CC BY-SA 3.0]
The Necropolis of Pantalica is located in the Hyblaen Mountains, about 35 kilometres away from
Syracuse
. Together, Syracuse and the necropolis form a UNESCO World Heritage Site. The necropolis is made up of about 5000 chamber tombs, the oldest of which can be traced back to between the 13th century B.C. and the 8th century B.C., at about which time the town of Pantalica also came into existence. The area didn't just serve as a burial site but also as a home to fleeing locals in the first centuries of the middle ages, who were struggling to get away from Barbarian, Visigoth and pirate invaders.
The necropolis of Pantalica expands over a large area and has five cemeteries; the necropolis of Filiporto, the North West necropolis, the Cavetta necropolis, the North necropolis and the South necropolis.
Visitors can get to the necropolis from the two main entrances in Ferla and Sortina. The former requires a relatively easy walk along a well-beaten path, whereas the latter is a more challenging walk down the sides of the valley. If you are not into walking, please note that there are very few parking spaces at the entrance, but buses provide regular services.
A range of archaeological finds and burial items, such as weapons, ceramics and items from the households of ancient residents, can be viewed in the Archaeological Museum in Syracuse.
The necropolis is also a site worth to visit if you like beautiful flora and fauna. Here grow orchids, anemones, sycamores, wild sage and thyme, and you can watch peregrine falcons and foxes. There are pathways to guide visitors through the site. It is a quiet unique experience and without question worth a visit if you are staying in the area around Syracuse.
Please note that there are no shops on site since it is a nature reserve. So bring plenty of water and snacks with you, and remember to take your trash with you when you leave.