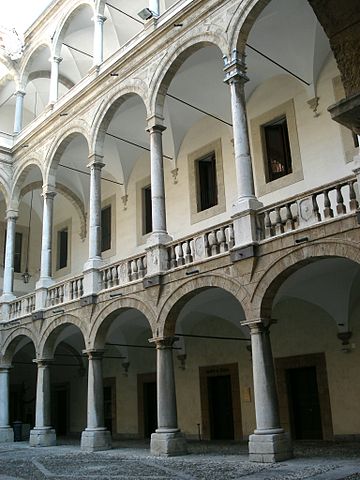 © Giovanni Dall'Orto / Wikimedia Commons
[gemeinfrei]
The Palazzo dei Normanni, Italian for the Royal Palace of Palermo, is a magnificent palace at the highest point of
Palermo
's ancient quarter. The palace served as the main residence of the kings in Sicily during the 11th and 12th centuries and today it works as the regional parliament of Sicily.
The palace origins from before 700 BC but was reconstructed in the 9th century by the Arabs and was former known by its Arabic name, Cássaro. By stepping through the visitors' entrance, holiday makers enter the inner courtyard with its Renaissance arcades. In the palace itself is the Sala dei Venti, Italien for Hall of the Winds, originally an open atrium, which has now been closed in on all sides by doors. Sections of the palace are used by the Sicilian parliament and can only be accessed on a guided tour.
The Capella Palatina, Italian for the Palace Chapel, is the palace's court chapel and was inaugurated in the year 1143 by Roger II. Worth seeing here is above all the wooden ceiling, decorated with Arabic wood cuts. The mosaics on the dome and the walls, created in the second half of the 12th century, are also very noteworthy and depict Christ Pantocrator as well as scenes from the Old Testament. Byzantine images and Arabic designs are mixed together on a gold background.
The palace and the chapel are both outstanding examples of the Arab-Norman-Byzantine architectural style so prevalent at the time of the buildings' construction.
While you are visiting the palace, do not miss the Punic Wall Archaeological site, the Crypt Chapel and Roger's Salon. The latter was formerly used for dining or entertaining purposes and is decorated with mosaics depicting pairing of animals. Roger II unofficially kept a harem with young and beautiful women here, officially their occupation was weaving.