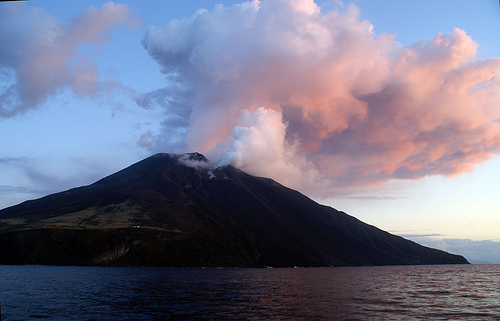 © giopuo / Flickr
[CC BY-SA 2.0]
The volcanic island of Stromboli lies in the Tyrrhenian Sea and is the location of the active volcano of the same name. The volcano takes up almost the entire island; however there is still enough space for two townships, San Bartolo and San Vincenzo, collectively home to about 480 residents. At the beginning of the 20th century this number was much higher, but frequent eruptions and mass emigration lead to people moving away. The island is part of the 8
Aeolian Islands
and possibly the most interesting of them all.
The Stromboli volcano erupts on a regular basis and these minor eruptions can be viewed from the surrounding islands. The island has therefore been given the nickname "Lighthouse of the Mediterranean". The island is also home to some excellent black sanded beaches, which are quiet unique and also worth a visit when exploring this fascinating island.
Stromboli can from Sicily be reached from the harbours of Milazzo and
Palermo
by ship, and during the holiday season, speedboats ferry visitors from the coast of Calabrian to the island. It is a popular destination for holiday makers visiting Sicily during the summer, but you must be aware of any volcano warnings from locals. The eruptions are not particular dangerous but you should always be precautios.
How to climb the Stromboli Volcano
The climb to the summit at 926 metres is strenuous and dangerous and takes about three hours. Those intending to embark upon the climb must be in good shape, and climbing boots and helmets must be worn at all times. Also remember to bring water and snacks for the trip. Civil defence regulations stipulate that a mountain guide must be present as a chaperone. Departure usually starts in the afternoon as the best time to view the crater is at dusk. It is advisable to book a tour in advance during the high season.